A new viaduct for Norwich?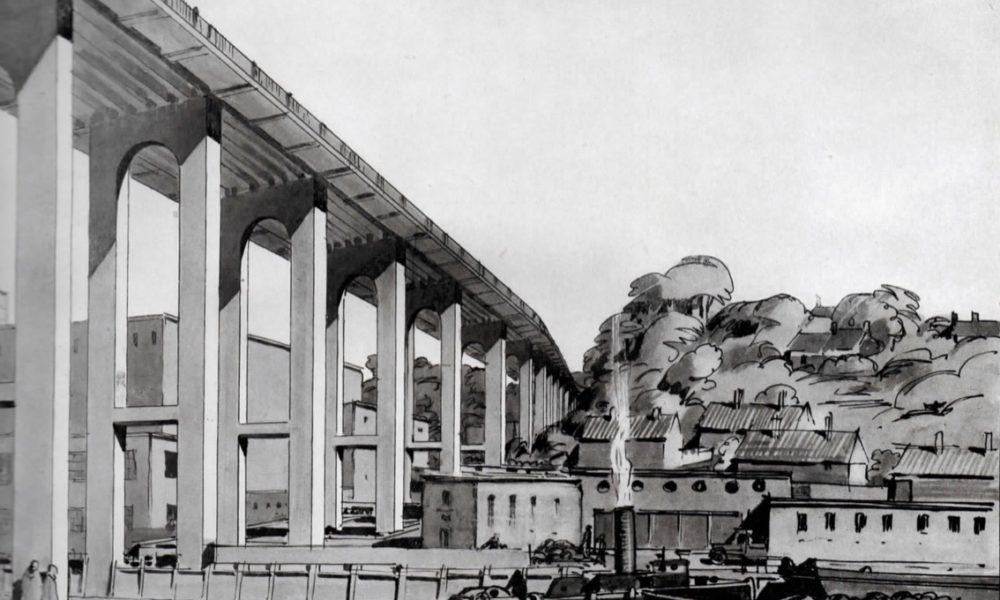 I've just found out about a radical proposal to solve road traffic congestion on Riverside. This huge viaduct would run from Bracondale over the top of the station and on to Thorpe Road. But don't panic – it's never likely to be built. It's in the City of Norwich Plan for 1945.
I'm researching Norwich's recent industrial past, which is how I discovered the 1945 Plan. It's a fascinating insight into an extraordinarily challenging time, rebuilding the city in a time of austerity that makes our own times seem pretty easy. "The devastation caused by bombardment from the air has given Norwich and her sister cities in the front line an unrivalled opportunity to replan their physical structure," the city council's town planners say. Wartime damage provides them with the chance to make some bold decisions, without sweeping away too much of what makes #Norwich a fine city. The problems they discuss are essentially peace-time problems, however: making sure the city continues to be a good place to live and work as it grows.
We're facing a lot of those planning problems again in the twenty-first century: affordable housing, attracting inward investment and jobs, tackling infrastructure and so on. So, although we're looking back to a Plan written more than seventy years ago, I'm surprised at how many of the issues are similar. Take this comment about Norwich's industries: they are all "footloose" – that is, they're not tied to the city for any physical reasons; they're here because their founders were born here or happen to live here. The risk the planners identify is that as companies grow and merge there's less reason for them to stay unless encouraged to do so by good conditions, especially housing and infrastructure.
It's slightly surreal to read detailed plans for a city that has changed a lot, and yet hasn't changed very much at all. The Cattle Market has moved to Harford Bridge, the Forum has replaced the rather dull Central Library, and we have Anglia Square (against these planners' wishes). We've lost a lot of inner-city factories – or rather, we haven't; they're used for very different types of work now. We've chased motor traffic out of most of the old city centre. And we've built lots of council houses, a Norwich success story that's explored further in Municipal Dreams. (There's a new twist to that tale, which I'll return to in another post soon.)
Copies of the Plan turn up in local second-hand bookshops from time to time, if you'd like to find out more. It includes some wonderful maps and lots of photographs, as well as illustrations of utopian plans for viaducts and civic centres (you can see Nick Stone's excellent commentary here – well worth a read). There's also a copy of the Plan in the Norfolk Heritage Centre collection (reference N 711.4 (0912)) in the #Millennium_Library.