Are some cities more equal than others?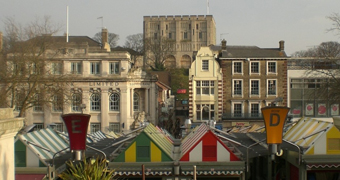 Regional economies depend on the success of their small businesses for growth – but are some cities better placed than others? I've been finding out what affects our local cities  – Cambridge, Ipswich and Norwich – with some surprising results. You'd think that Cambridge has everything, but there are big disadvantages.
I've been looking at a new report from Centre for Cities: Small Business Outlook 2013, which compares the prospects for the 64 largest cities and towns in England. I've pulled out the stats on numbers of SMEs (small businesses) and their growth rate; access to workforce capacity and skills; affordability (eg house prices); and the barriers to progress (speed – or otherwise – of planning decisions; digital connectivity and salary levels).
The things that hold each of our local cities back are completely different – for example, the very high cost of housing in Cambridge, poor educational performance in Ipswich and dreadful broadband connectivity in Norwich. But there are definite pluses too, and they are not always obvious.
As the Centre for Cities has always said, cities are unique; one-size-fits-all policies won't work. That's clearly true for our local cities. The full story is here.Button Text